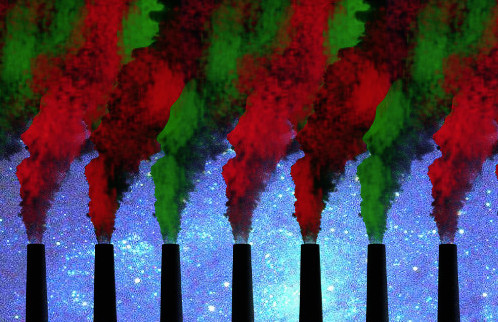 Supported by Verge Gallery & Auspicious Arts
Hosted by Sydney's most vocally versatile feminist songstresses, Lady Sings it Better, and featuring performances from local artists including Betty Grumble, Tom Hogan, Maria White and Emma McManus, Nathan Harrison, Alana Wesley, Jules Patey and Ellipsis, Christmas Climate Change Variety Hour is a perversion of carols by candlelight questioning the material and conceptual sustainability of Christmas with singalong, dance, mime, poetry, durational performance and experimental lectures.
Curated by some of the residents of Earlwood Farm, this event brings together a variety of different artists to trouble the unholy alliance between church, state, corporations and media that occurs during the festive season. What happens to all our Christmassy fantasies when Santa's workshop melts into the Arctic Ocean? This event invited artists to question the connections between Christmas and climate and their responses will be tabled in a wild night of live performance, group song and qualified merriment.
This event brings together artists from a range of disciplines and art forms to think creatively and provocatively about the connection between Christmas and Climate Change.