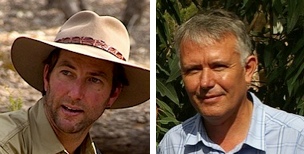 Chris and Geoff are not only well-known ecologists but also superb photographers of birds and all things beautiful and significant in the bush!
Chris is widely known for his invaluable book, "Wildlife of the Box-Ironbark Country" and Geoff for his wonderful website, "Natural Newstead", rich in in extraordinary images and detailed knowledge.
Chris and Geoff will be taking us through the Ironbark forest around Crusoe Reservoir examining the different kinds of habitat and the changes in species distribution that have been occurring under climate change.