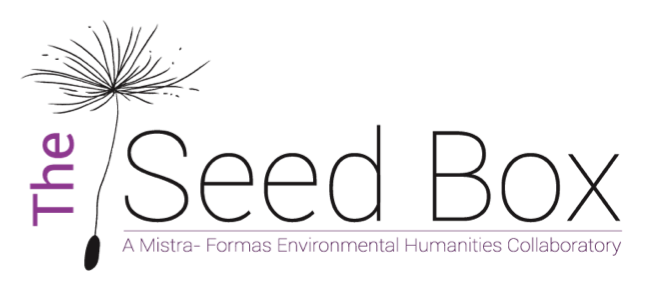 10 Apr

Call for Applications: Seed Funding for the Environmental Humanities

THE SEED BOX AT LINKÖPING UNIVERSITY, SWEDEN

Project Proposal Deadline: 15 May 2016

The Seed Box invites applications for funding of environmental humanities research.

Located at Linköping University, The Seed Box—a Mistra-Formas Environmental Humanities Collaboratory (EHC)—is a national Swedish initiative with international scope, jointly funded by
Mistra—The Swedish Foundation for Strategic Environmental Research, and
The Swedish Research Council for Environment, Agricultural Sciences and Spatial Planning (Formas)

As articulated by Mistra and Formas, the purpose of the Seed Box programme "is to bring about a vigorous national initiative in environmentally oriented humanities, with the ambition of achieving international reference status within a few years. The programme is to be interdisciplinary, with a core of humanities. It will be open to all Swedish higher education institutions (HEIs) and every discipline in the humanities that is studied at Swedish HEIs."
The purpose of this call for applications is to advance initiatives in environmentally oriented humanities at Swedish HEIs or at equivalent administrative Swedish organizations (i.e., those that are listed in the Swedish system "Prisma" with their own organizational account). Applicants outside of Sweden, then, must secure a Swedish partner institution for the envisioned project.
What are the Environmental Humanities?
Environmental Humanities refers to a trans- and multi-disciplinary community of scholars working in literature, history, philosophy, fine arts, anthropology, geography, archeology, gender studies, human-animal studies, and more; its scope is often transnational and transcultural. Environmental humanities projects distinguish themselves from other interdisciplinary humanities work in their thinking through/thinking with nature and the environment; their activist orientations; and their bridge-building between different environmental story-telling practices, disciplines, or knowledge communities.
This field simultaneously addresses "lacunae in the humanities, which seldom address science and technology in detail, and lacunae in environmental studies, where analysis typically emphasizes science and social science" (Mistra "Background Paper: The Emergence of the Environmental Humanities," May 2013, pp. 6-8).
What research areas will be considered?
The Seed Box encourages applications for projects that fit into and support its four research areas:
Deep Time, Deep Earth, Deep Waters
Green Futures
Toxic Embodiment
Weather Writing and Climate Change

For more information on these themes and on the larger aims of the Seed Box, please visit our website at www.theseedbox.se.
What kinds of projects are eligible, and for how much can I apply?
We expect to fund three different categories of proposals:
1) initiation grants and pilot projects;
2) artists' or writers' residencies; and
3) capacity-building activities.
1) Initiation Grants and Pilot Projects
We expect to fund up to eight initiation grants and pilot projects, with a minimum amount of approximately 350,000-400 000 SEK per grant. On average, such an amount covers the equivalent of three months' paid work on location at the Seed Box. In some cases, costs for accommodation and travel are covered as well. We will also consider larger project applications, up to three times the amount indicated above (ca. 1.2 million SEK).
2) Artists' or Writers' Residencies and Sabbaticals
We also expect to fund up to three artists' or writers' residencies and sabbaticals, also at the Seed Box in Linköping, at approx. 100,000 SEK each. On average, a residency grant covers the equivalent of one month's paid work, including travel and accommodation. These grants will be administered via a Swedish HEI and thus adhere to its internal regulations.
3) Capacity-Building Activities
Finally, we expect to fund capacity-building activities and projects with the purpose of establishing research exchanges and networks between environmental humanities programs within and outside of Sweden, including (but not limited to):
Collaborative events such as workshops, seminars, and conferences. We expect to fund eight to 10 workshop and seminar events, and a larger conference event.
Digital Humanities projects in environmental humanities fields, e.g., digital maker space for citizen environmental humanities purposes, or similar creative endeavors.
Citizen Humanities events, inviting public engagement with environmental humanities purposes, such as urban gardening, eco-art interventions, and other creative forms of eco-activism.
Travel grants to facilitate attendance at environmental humanities conferences and workshops. Applications for travel grants among the 13 consortium universities listed at the Seed Box's website and for travel to events at these universities are especially encouraged.
Travel grants to support research, including field work, data collection, and archival research in environmental humanities.
Grants to cover publishing costs, such as book subventions or support for open access publication, provided that the benefits for the field of environmental humanities and the Seed Box program are clear.

The number of awarded grants and fellowships depends on the scope, quality, and quantity of the applications received and the overall budget.
All projects must include a detailed budget justification that includes the coverage of indirect costs ("OH" in Sweden) of the involved Swedish HEI (or non-Swedish partner institution) based on Mistra's rules for approved costs: payroll plus a mark-up for social costs (no internal cost allocations are allowed), travel costs, costs of materials, equipment and communication. For indirect costs and premises, Mistra allows an amount equivalent to 140,000 SEK per full-time equivalent (FTE) worker annually. For grants located at Linköping University, 31% indirect costs are added to all direct costs. If you have questions about these general overhead costs, please contact the Swedish HEI that you propose engaging with for your project.
Successful applications will not only propose exciting new directions or suggest ways to consolidate this emerging field, but they will also foster the continued development of the Seed Box and its EHC into an international locus of environmental humanities collaboration We look to support both junior scholars and established leaders in the field. Funded projects will be interdisciplinary by design. We are especially interested in those projects that expand the analytical and/or societal relevance of the humanities for solving pressing environmental problems.
Who is eligible?
All scholars holding a terminal degree (Ph.D., MFA, or equivalent) from a Swedish or foreign university are eligible to submit proposals. We encourage applications from early career and senior scholars alike, as well as independent scholars and artists. Applicants need not—but may—have been involved with Seed Box program in the past. Applicants from outside of Sweden must secure the sponsorship or collaboration with a Swedish HEI or other administrative organization. The purpose of this call for applications is to advance initiatives in environmental humanities at these institutions.
How do I apply?
Application procedures are outlined in detail at the Seed Box's website, www.theseedbox.se. Click on "Apply for Funding" for instructions and submission information.
Applications must be submitted in English and must include:
1. A submission form available at the online application;
2. A single PDF file containing, in this order:
a. A project description (up to 1200 words) that outlines the proposed activity, explains its aims and implementation, and points to its differentiation from previous research;
b. A short statement (up to 800 words) explaining the budget, including the total amount requested and an outline of specific costs (i.e., salary, travel, accommodation, equipment, and indirect costs to the involved HEI) and disclosure of other funding supporting this project;
c. A brief (up to 400 words) explanation of how the proposed research or project will benefit the Swedish national initiative in environmentally oriented humanities; and
d. A brief (two-pp., single-spaced) c.v. indicating your current position and up to 10 publications most relevant to the proposed research.
When can I apply?
Applications will be accepted between 4 April and 10 May, 2016.
How will proposals be evaluated?
Successful proposals will demonstrate a significant contribution to the field of environmental humanities. They will have international and collaborative ambitions, and they must have sponsorship or collaboration with a Swedish HEI or administrative equivalent. Accepted proposals will be interdisciplinary in scope but maintain a humanities focus.
All proposals for initiation grants, pilot projects, and artists'/writers' residencies will be peer-reviewed by external evaluators. The external evaluators will consider how the proposed research fits into one (or more) of the four research areas (Deep Time/Deep Earth/Deep Waters, Green Futures, Toxic Embodiment, Weather Writing and Climate Change); how it enriches the enlivening of our current environmental imaginaries; how it re-thinks environmental approaches as critical and creative posthumanities; how it engages environmental justice and intersectional more-than-human ethics; and/or how it informs public humanities or civic awareness.
Proposals for all other activities will be evaluated by the Seed Box Program Management Group, which includes the Seed Box Program Director and Scientific Directors (named below).
Both the external reviewers and the Program Management Group will make their recommendations for funding to the Program Executive Board, which makes the final decisions regarding disbursement of funds. No appeals to funding decisions will be considered.
What is the total amount of funding to be awarded?
The Seed Box may distribute up to 4,000,000 SEK during 2016. We expect to announce a similar call in 2017.
What are the responsibilities of the awardees?
Successful applicants must use all funding by 2018 and credit the Seed Box in all publications resulting from the grant. Any research or other outputs resulting from this funding must be communicated and reported to the Seed Box Program Director. These citations will then be included as part of the record of research production of the Seed Box overall. In addition, we will ask all grant recipients to write a brief blog post about their Seed Box-sponsored work for our public web page.
When will I know the results?
We will make all decisions known by the end of September. We will notify successful applicants via e-mail. Awardees will also be listed on our website.
Whom should I contact if I still have questions?
For questions and further information about this Call for Applications, please contact
Cecilia Åsberg, Program Director of The Seed Box
cecilia.asberg@liu.se
Björn Pernrud, Program Administrator of The Seed Box
bjorn.pernrud@liu.se
For questions regarding the individual research areas of the Seed Box, please contact the scientific director(s) for the area you are interested in:
Deep Time, Deep Earth, Deep Waters: Jonas Anshelm, jonas.anshelm@liu.se and Astrida Neimanis, astrida.neimanis@sydney.edu.au
Green Futures: Johan Hedrén, johan.hedren@liu.se
Toxic Embodiment: Cecilia Åsberg, cecilia.asberg@liu.se
Weather and Climate Change: Eva Lövbrand, eva.lovbrand@liu.se