11 Feb

Accepting Applications for Fall 2018 – MA in Environmental Arts and Humanities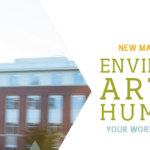 WHAT IS THE M.A. IN ENVIRONMENTAL ARTS AND HUMANITIES?
The degree program is designed for students with undergraduate degrees in the arts/humanities or the environmental/natural resource sciences and a deep interest in broadening their education to include arts/humanities-based perspectives and skills. In its foundation courses, the M.A. will provide students a reciprocal understanding of the working methods of environmental science and environmental arts/humanities.  Then it invites students to focus on one of three graduate areas of concentration: environmental imagination (arts, communication, creative writing, moral imagination), environmental action(community leadership, movement building, media power, cultural diversity, social justice, the history of structural change), or environmental thinking (moral reasoning, critical thinking about environmental issues, conceptual analysis of complex problems, reasoning with facts and values).  Students in the M.A. program will learn these skills in the context of work in a particular area of concern, work that will include courses, collaborative field experience, and the thesis or project.
WHAT IS THE GOAL OF THE M.A. IN ENVIRONMENTAL ARTS AND HUMANITIES?
Broadly understood, the goal of the M.A. is to provide students with a degree program about the cultural, moral, historical, spiritual, creative, and communication dimensions of environmental issues. The program builds upon, and adds to, the collaborative nature of faculty and student engagement across several disciplines at Oregon State University. M.A students will graduate prepared for good, wise work in such positions as environmental NGOs, government and land agencies, advocacy groups, corporations, green business, journalism, conservation and stewardship, formal and informal education, and other environmental positions that require strong, creative communication and reasoning skill sets and humanistic understanding.
Visit us online to learn more and to apply.
https://liberalarts.oregonstate.edu/centers-and-initiatives/environmental-arts-and-humanities-initiative/academics