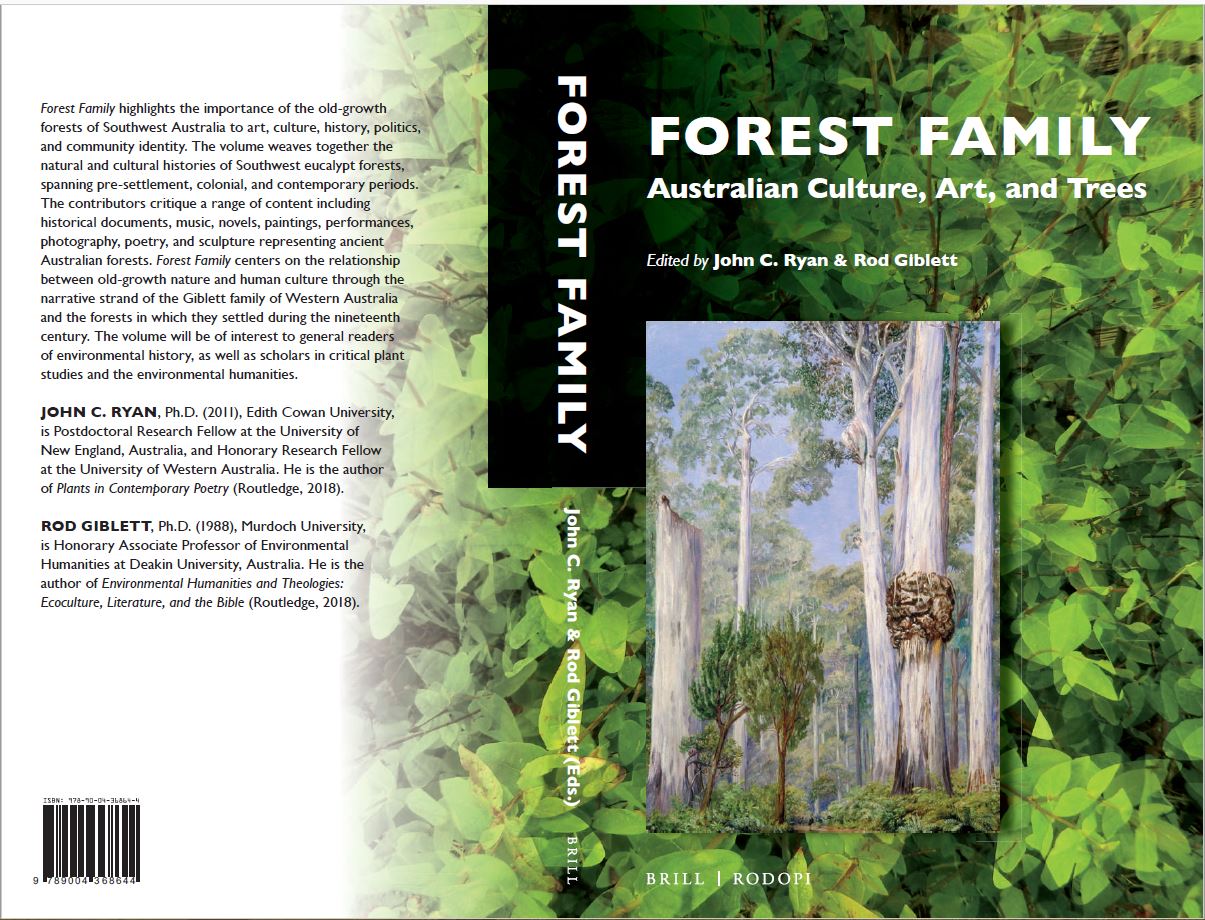 18 Jun

Forest Family – New book in environmental humanities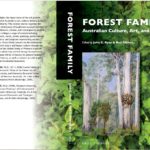 Forest Family
Australian Culture, Art, and Trees
Editors: John Charles Ryan and Rod Giblett
Forest Family highlights the importance of the old-growth forests of Southwest Australia to art, culture, history, politics, and community identity. The volume weaves together the natural and cultural histories of Southwest eucalypt forests, spanning pre-settlement, colonial, and contemporary periods. The contributors critique a range of content including historical documents, music, novels, paintings, performances, photography, poetry, and sculpture representing ancient Australian forests. Forest Family centers on the relationship between old-growth nature and human culture through the narrative strand of the Giblett family of Western Australia and the forests in which they settled during the nineteenth century. The volume will be of interest to general readers of environmental history, as well as scholars in critical plant studies and the environmental humanities.
Editors
John Charles Ryan, Ph.D. (2011), Edith Cowan University, is Postdoctoral Research Fellow at the University of New England, Australia, and Honorary Research Fellow at the University of Western Australia. He is the author of Plants in Contemporary Poetry (Routledge, 2018).
Rod Giblett, Ph.D. (1988), Murdoch University, is Honorary Associate Professor of Environmental Humanities at Deakin University, Australia. He is the author of Environmental Humanities and Theologies: Ecoculture, Literature, and the Bible (Routledge, 2018).
Contents
1. Introducing Forest Family John Charles Ryan and Rod Giblett
Part I Old-Growth Nature and Culture
2. From Understory to Overstory: Critical Studies of Old-Growth Trees and Forests John Charles Ryan
3. Forest Giants: Locating Southwest Australian Old-Growth Country John Charles Ryan
4. Family Trees: Jarrah, Karri, and the Gibletts of the Balbarrup-Dingup Area Rod Giblett
5. Built in the Forest: A Hamlet History of Giblett Cultural Heritage Rod Giblett
Photographic Essay: Let No Man Put Asunder Juha Tolonen
Part 2 Old-Growth Arts and Activism
6. From Burls to Blockades: Artistic Interpretations of Karri Trees and Forests John Charles Ryan
7. Sing the Karri, Sculpt the Jarrah: Sustaining Old-Growth Forest Through the Arts Robin Ryan
8. Old- Growth Activism: The Giblett Forest Rescue of 1994 and 1997 Nandi Chinna
Contributors
Nandi Chinna is a research consultant, poet, and activist. Her poetry publications include Swamp: Walking the Wetlands of the Swan Coastal Plain (Fremantle Press, 2014), Alluvium (with illustrator Andrea Smith, Lethologica Press, 2012), How to Measure Land (Picaro Press, Byron Bay Writers Festival Poetry Prize winner, 2010), and Our Only Guide is Our Homesickness (Five Islands Press, 2007). Her latest poetry collection, The Future Keepers, is forthcoming from Fremantle Press in 2019. In 2016 Nandi was Writer in Residence at Kings Park and Botanic Gardens in Perth, Western Australia. She won the 2016 Fremantle History Award for her history of Clontarf Hill, and was shortlisted for the 2016 Red Room Poetry Fellowship. For the 2017 Perth International Arts Festival, she collaborated with Amy Sharrocks and the Museum of Water on a community water poem and an interactive walking tour of lost water bodies. She facilitates regular writing labs on "poepatetics"—the art of walking and writing.
Rod Giblett is a great-great grandson of John and Ann Giblett, the first European settlers of Balbarrup and Dingup in the Manjimup area of Western Australia. For a long time, he has had an interest in his family history, in the environmental history and aesthetics of the forests of Southwest Australia, and in the cultural and natural history of jarrah and karri trees, the two most visibly dominant tree species of the two bioregions to which they give their names. He has written books about people and place, as well as books of nature writing, ecocriticism, and environmental philosophy, history, and theology, including Environmental Humanities and Theologies: Ecoculture, Literature and the Bible (Routledge, 2018). He also lived by a wetland for many years and wrote and published many books about it and other wetlands. He is Honorary Associate Professor of Environmental Humanities at Deakin University.
John Charles Ryan is a poet and scholar who holds appointments as Postdoctoral ResearchFellow in the School of Arts at the University of New England in Australia and Honorary Research Fellow in the School of Humanities at the University of Western Australia. His teaching and research cross between the environmental and digital humanities. He is the author or editor of several research books, including Digital Arts: An Introduction to New Media (Bloomsbury, 2014, as coauthor), The Language of Plants: Science, Philosophy, Literature (University of Minnesota Press, 2017, as co-editor and contributor), Plants in ContemporaryPoetry: Ecocriticism and the Botanical Imagination (Routledge, 2017, as author), and Southeast Asian Ecocriticism: Theories, Practices, Prospects (Lexington Books, 2017, as editor and contributor).
Robin Ryan studied music at the University of Western Australia and the University ofWashington, Seattle, USA. She contributed the first Master's thesis on urbanAboriginal music through Monash University, where her research into theleaf music of Indigenous Australians (PhD, 1999) led to employment as a specialist adviser to Currency Companion to Music and Dance in Australia (2003). A former Research Fellow at Macquarie University, Sydney (2001–2005), Robin is currently affiliated with the Western Australian Academy of Performing Arts(WAAPA) at Edith Cowan University. Some of her recent research is publishedin Current Directions in Ecomusicology: Music, Culture, Nature (Routledge) andCollaborative Ethnomusicology (Lyrebird Press); and the journals Environmental Humanities, Perfect Beat, M/C Journal, Societies, Sound Scripts, and the Journal of Music Research Online. Robin currently resides in the south-east Australian forest port of Eden, New South Wales.
Juha Tolonen is an artist, academic, and entrepreneur. His work can be found in the public collections of the Australian Parliament and Art Gallery of Western Australia. He is an Adjunct Lecturer at Edith Cowan University and is the co-author of Photography and Landscape published by Intellect Books. Juha currently lives and works in Lapland innovating new products in nature-based tourism.
Forest Family is published in the Series: Critical Plant Studies, Philosophy, Literature, Culture, Volume: 4
Ordering information: https://brill.com/abstract/title/35058