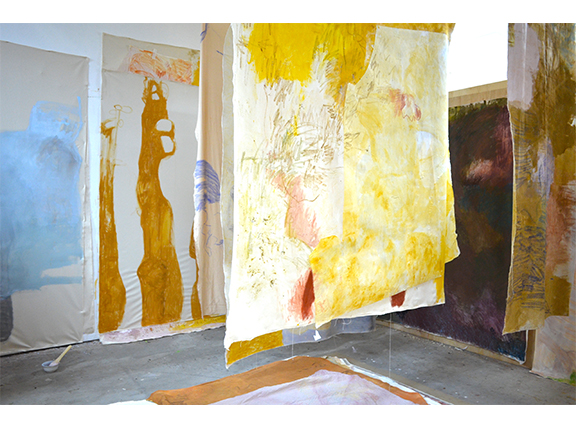 13 Nov

Exhibition Opening: Jahnne Pasco-White "becoming with" (Glasshouse, Melbourne)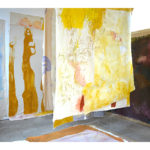 Gertrude Glasshouse, 44 Glasshouse Road, Collingwood
Opening: Thursday 14 November 2019, 6-8pm
Exhibition Dates: 15 November – 14 December 2019
Join us for the opening of becoming with by Jahnne Pasco-White.
To think and act ecologically implies an interconnectedness, in one form or another. Donna Haraway maps the implications of such interconnectedness as 'becoming-with', such that human-nature separation is refashioned as a myriad of bodily connections. Timothy Morton prefers 'the mesh'. More concretely, the late Deborah Bird Rose emphasised instead 'embodied knots of multispecies time', which usefully gets us closer to ecological processes of decay and renewal.Within the confines of a painting and drawing practice, the question of 'becoming-with' becomes not simply one of (re)presentation but of active exclusion and inclusion. Incorporating organic materials within the paintings, the traditional medium of acrylic paint is employed alongside pigments drawn from matter such as avocado skins, spices and grasses. The exhibition becoming with is conceived as an interconnected system, with each surface playing out over different material and temporal scales. How each painting transforms is not predetermined, however, but conditional, and thereby agential.becoming with is accompanied by a text by Amelia Wallin, Director, West Space, Melbourne.
Jahnne Pasco-White's expanded painting practice considers the intersections between materiality and temporality. Her work is characterised by the labouring of delicate supports. Specifically, she is interested in the layers of authorship that are variously evidenced and concealed by the artist's mark-making, as well as their continual processes of decay and renewal.An earlier work from the artist's larger Kin series, messmates #1 (2019), was acquired by the Bendigo Art Gallery as the recipient of the 2019 Arthur Guy Memorial Painting Prize. She was the recipient of a 2018 Art Gallery of New South Wales' Moya Dyring Memorial Studio scholarship at the Cité Internationale des Arts in Paris and was awarded a Martin Bequest Travelling Scholarship for Painting2018-20.The artist currently lives and works on Wurundjeri land and waters, in Australia. Jahnne Pasco-White is represented by Daine Singer, Melbourne.This project has been generously supported by the Marten Bequest, Australia Council for the Arts and the City of Yarra Small Project Grant. The artist would like to thank Nico Taylor, Oslo Bluing, Amelia Wallin, Richard Butcher and the team at Gertrude Contemporary. The 2019 Gertrude Glasshouse exhibition program is generously supported by The City of Yarra.
—
Image: Jahnne Pasco-White, studio in progress, image courtesy of the artist.