27 Oct

Ecocide in a Pandemic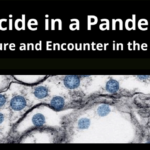 Ecocide in a Pandemic: Laws of Exposure and Encounter in the Anthropocene
Tuesday 17th November 2020, 8.30 – 10pm AEDT
In this seminar, we will explore the confluence of colonisation and ecocide in the Anthropocene thesis, and the challenge to modernist claims to mastery posed by the existential threat of a global pandemic.  Whereas the language of battle dominates political and scientific narrativisation, viral zoonosis and microbial agency provoke a radical recalibration for our contemporary moment.
We will be in conversation with Dr Vito De Lucia (UiT The Arctic University of Norway), Professor Anna Grear (Cardiff University) and Professor Andreas Philippopoulos-Mihalopoulos (University of Westminster).  The seminar will be moderated by Dr Kathleen Birrell and Tim Lindgren (University of Melbourne).
Further details and registration are available here.