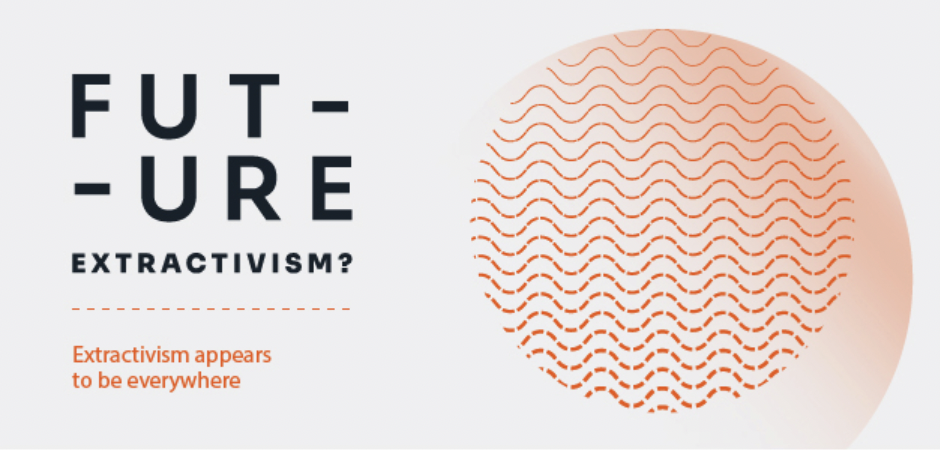 14 Oct

Future Extractivism? – Hybrid seminars at WSU (2022-23)
About this event
From open pits in remote mountains to flickering bits of digital information, from impending climate catastrophe to emerging markets in refuse and waste, the potentials and perils of our current moment seem to hang on extraction. Looking across political economy, environmental justice, energy transition and data politics, this series of seminars inquires into the logics, impacts, and limits of extractivism as a paradigm and practice.
A series of four international seminars organised by the Environment and Technology and Automated Worlds research groups and hosted by the Institute for Culture and Society at Western Sydney University. The program will be facilitated by Professor Brett Nelson, Professor Gay Hawkins, Dr Adam Sargent, and Dr Declan Kuch.
Register now: https://www.eventbrite.com.au/e/future-extractivism-tickets-423827979897
---
Hybrid event
This event will be held in a hybrid format. We highly recommend you joining us in person at the Parramatta South Campus, Western Sydney University and enjoy the lunch after the seminar. If you cannot make it in person, we will send a reminder the day before with the zoom link.
---
Panels
The Limits of Extractivism – October 13, 2022 11.30 -1 pm
Our first seminar invites speakers to engage with concepts of extraction and extractivism as they have emerged and migrated from realms as diverse as mining heavy metals to accumulating digital data. We investigate whether these realms are comparable and in what respects. Is extracting metal the same as extracting data? What does it mean that we extract things as disparate as metal ore and megabytes?
Speakers:
Brett Neilson (Western Sydney University)
Paola Ricaurte (Tecnológico de Monterrey/Harvard)
Stefanie Graeter (University of Arizona)
---
Elemental Frontiers – November 10, 2022 11.30 – 1 pm
Our second seminar explores new objects of extraction from hydrogen to lithium to rare earth minerals and the novel social arrangements that support such practices. How resource intensive is the 'green' economy and what are the impacts of these 21st-century extractive industries?
Speakers:
Stephen Muecke (University of New South Wales)
Kirsty Howey (Environment Centre NT)
Jason de Santalo (University of Technology Sydney)
Jojo Nem Singh (Erasmus University Rotterdam)
---
Salvage Economies – 2023 date to be confirmed – March 9, 2023 11:00 am -12:30 pm
Our third seminar asks if waste is now a resource what kinds of valuing practices make it available for further capital accumulation? Do these valuing practices extend extractivism or signal emergent salvage economies where new forms of ecological and economic diversity proliferate?
Speakers:
John Frow (University of Sydney)
Sebastián Ureta (Universidad Alberto Hurtado, Chile)
Ruth Lane (Monash University, Melbourne)
---
Transitions – 2023 date to be confirmed – March 30, 2023 11.30 -1 pm
Our final seminar reflects on alternatives to the current and emerging modes of extractivism. We focus on ways to both regulate the harms endemic to systems of extraction and how transitions to new economies might be imagined.
Speakers:
Juan Salazar (Western Sydney University)
Joyce Liu (National Yang Ming Chiao Tung University)
---
For more information, please check the ICS Event pages via the link (opens in new window)Opens in a new window, or you can reach the event coordinator Yinghua Yu via y.yu@westernsydney.edu.au.